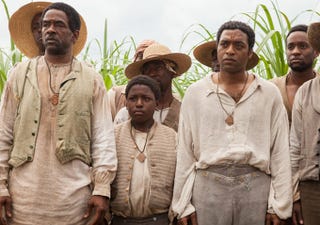 Looking to see Steve McQueen's 12 Years A Slave in theaters? Better hope you live in one of a handful of metropolitan areas in the country with a showing.
Yes, even with the national ad campaign and legitimate Oscar buzz, 12 Years, which was said to open October 18th, is currently relegated to limited release only. It's rumored that distributor Fox Searchlight is staggering release over several weeks to keep the film fresh for consideration for the 2014 Academy Awards. (The film, featuring an all-star cast, came out of the Toronto Film Festival with a People's Choice win and has been a quick pick for some as strong candidate for Best Picture.)
Unfortunately, with the Oscars still four months away, finding a local theater with 12 Years on the docket even following the so-called November 1st wide release may prove difficult, even impossible for some moviegoers. I, myself, have called or researched eleven Bay Area theaters only to be denied in every instance. The closest theater to me with a showing is 102 miles away. To top this off, 12 Years is considered an independent release by many theaters, who may end up passing on the film altogether. Color me disappointed.
All is not lost though. Though the nationwide release is only days away, some theaters distribute their movie lists to franchises on a weekly basis. And with its solid showing so far, perhaps more locations will be enticed theaters to pick up the film. If not, well then hopefully Oscar season can guarantee a bit more ubiquity.
[Update] It lives! Late today a number of theaters, at least within the Century franchise line, have added 12 Years to their list of films opening this Friday. While options may still be a bit sparse for some, it's a good sign that you may get a chance to catch the movie before Oscar season.
Where and When Can You See '12 Years A Slave?' [Rope of Silicon]
'12 Years a Slave' Makes Solid Box Office Debut, High Yield Expected for Wider Release [Contact Music]